With the Summer season just around the corner, many travellers are planning their vacations, searching for the perfect accommodations to get the summer vibes flowing. If you're an Airbnb host, you can enhance your guests' experience and make them feel genuinely welcome with a thoughtfully curated welcome basket.
As you already know, to ensure positive reviews and repeat bookings from Airbnb guests, it is essential to provide a warm and welcoming experience. With that in mind, a thoughtful and personalized welcome basket is an easy and effective way to accomplish this. A welcoming basket sets the tone for a memorable stay and demonstrates your attention to detail. In this article, we will guide you through creating the perfect Airbnb welcome basket to make your guests feel genuinely welcomed and appreciated. Using these tips and ideas, you will be able to elevate your hosting game and create an unforgettable experience for your guests by understanding your target audience, incorporating local and personal touches.
Let's explore the top tips for creating a welcome basket for your Airbnb this summer!
What is an Airbnb Welcome Basket?
A welcome basket at your Airbnb is a thoughtful arrangement of items and goodies that you can provide to guests upon arrival. It is a surefire way to make guests feel welcome and appreciated and to enhance their overall experience during their stay.
Importantly, Airbnb welcome baskets create a positive first impression, and set the tone for their stay. Guests feel valued and appreciated when they receive a warm greeting and personal touch.
What's included in an Airbnb Welcome Basket?
Airbnb welcome baskets can include everything from practical essentials to delicious treats and local specialties. For instance, toiletries (such as travel-sized shampoo, conditioner, soap, and toothpaste), mini snacks, mini beverages, local produce, pamphlets, travel guides, and bath salts are all tried and true items that your guests are sure to appreciate.
It's important to personalize your welcome basket to your property and guests. For example, if your Airbnb is near the beach, beach towels, sunscreen, and toys may be included. If the baskets are for business travelers, consider perhaps pens, notepads, and coffee shop gift cards.
Airbnb welcome baskets aren't just a collection of items - they're an indirect way for you as a host to communicate with your guests. In order to foster hospitality and care, you can tailor its contents, consider guests' interests and needs, and bring a sense of place to it.
How to Craft a Welcome Basket for your Airbnb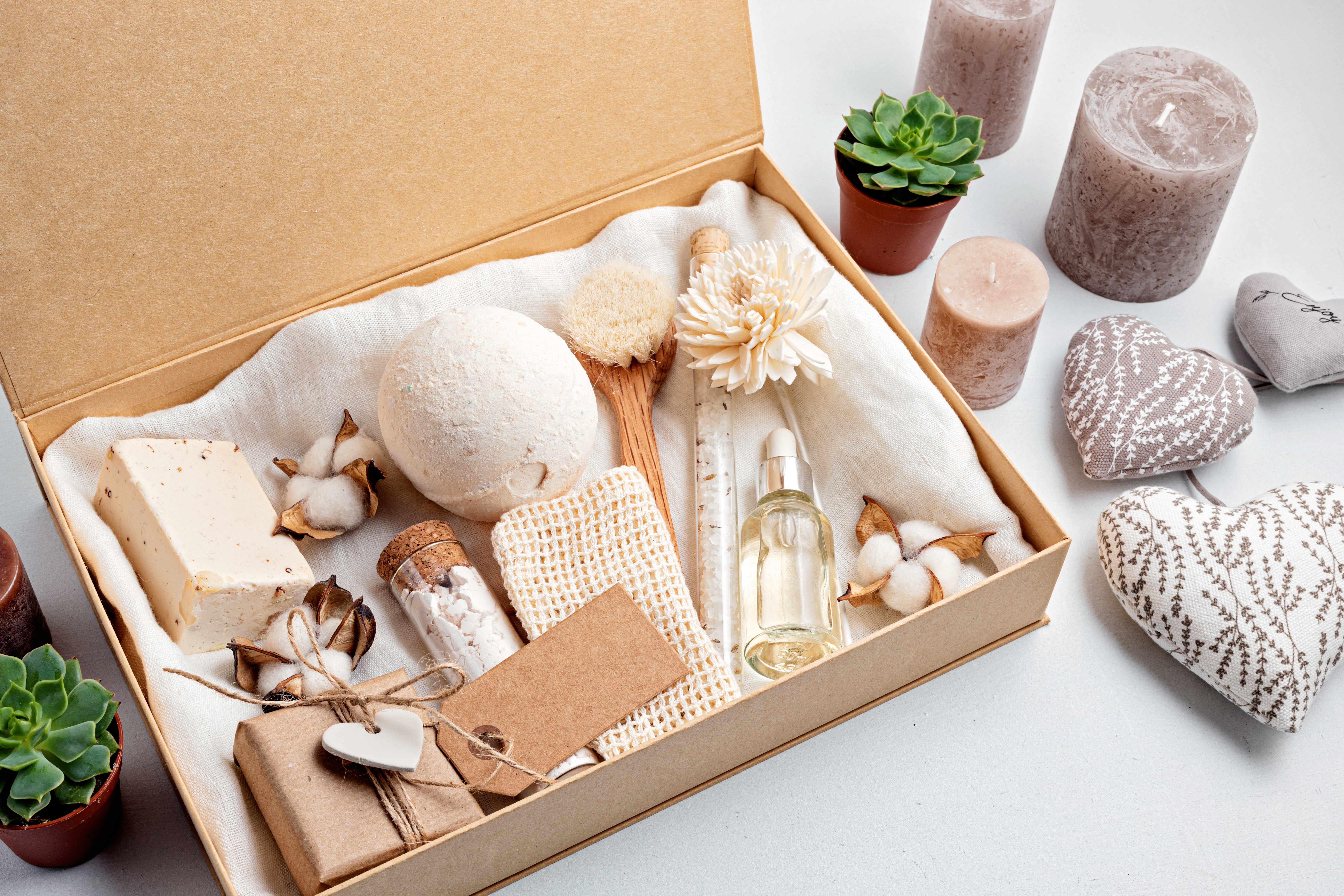 Let's find out how to create a memorable welcome basket that will impress your guests and elevate your hosting skills. Here's how:
Understand the Audience you're Trying to Reach
Consider the type of guests you usually host—families, couples, Digital Nomads, or business travelers —before creating a welcome basket. Your basket should be tailored to the preferences and needs of your guests. For instance, a travel-sized toiletries kit might be more useful for business travelers, while snacks and games might be more useful for families.
Add some Local Flavour
By incorporating local treats such as artisanal chocolates, jams, and specialty coffees into your welcome basket, you can immerse your guests in the local culture and charm. Guests will also appreciate brochures highlighting nearby attractions, events, and dining recommendations.
Add a Personal Touch
Your guests will appreciate a handwritten note that creates a personal connection. It is important to welcome your guests, thank them for booking, and offer any assistance they may need. Want to step it up some more? A mini bouquet of freshly cut flowers with your note is also a great idea! It adds a premium touch to their stay, making them feel valued and appreciated.
Add in some Essential Amenities
Incorporate essential amenities into your welcome basket to ensure your guests' comfort. Travellers who may have forgotten or run out of toiletries can benefit greatly from travel-sized toiletries and things such as razors, shaving foam, tampons, etc. To make their stay more comfortable, you can also include items such as sunscreen, insect repellent, etc.
Offer Refreshments
Bottled water, soft drinks, or juices are a great way to refresh your guests after a long trip. Provide a selection of snacks that are convenient and healthy, including granola bars, nuts, and dried fruits.
Adding a Touch of Luxury
Make your guests feel pampered and relaxed by including small indulgences like scented candles, bath salts, or mini spa products. Treating your guests to these mini luxuries during their stay will bolster the premium look and feel of your property.
Include some Entertainment Options
You can also provide entertainment options and connectivity solutions for leisurely activities. For example, include a selection of books, magazines, or puzzles. Consider adding a mini crossword puzzle book or even a sudoku puzzle.
Add in tips and recommendations from your local area
Include favorite local spots, such as restaurants, cafes, parks, and lesser-known attractions, as a local host. If you have any advice about hidden gems or must-see attractions in the area, share them with your guests.
Pro Tip : Consider collaborating with local businesses and including discount coupons or vouchers for local businesses, which will benefit both your guests and the local businesses.
Don't forget to keep it green
Include eco-friendly products in your welcome basket as well. It will appeal to environmentally conscious travelers and also reflect positively on your hosting practices if you use reusable and biodegradable packaging and organic and locally sourced products. You can also encourage guests to reduce waste and recycle in the process.
Lastly, ask your guests for feedback regarding the welcome basket and their overall experience. Your welcome basket needs to be constantly refined to meet your guests' evolving needs and preferences, taking their suggestions into consideration. Feedback helps you to determine whether your efforts have been successful and identify where improvements can be made.
Airbnb Welcome Basket Themes Your Guests Will Rave About
The best welcome baskets are more than just a collection of items - they're held together by a cohesive, overarching theme. Here's a list of winning welcome basket themes to consider:
A Basket of Local Delights
One surefire way to impress your guests is by showcasing the flavors of your region or city. Create a local delights basket filled with delicious treats unique to your area. Include artisanal chocolates, locally made jams or preserves, gourmet snacks, and perhaps a bottle of wine from a nearby vineyard. This will give your guests a taste of the local culinary scene and introduce them to the gastronomic delights of your region.
A Basket of Beach Essentials
A beach essentials basket will be a big hit if your Airbnb is located in a beach destination. Include beach towels, sunscreen, hats, flip flops, and a beach bag, along with some extra entertainment like a frisbee or a beach ball. Guests will know that you anticipate their needs and want them to enjoy the sand and surf with this thoughtful gesture.
A Basket of Fun for the Whole Family
Creating a fun basket for families is an excellent idea if your Airbnb is popular with families.
You can include board games, playing cards, coloring books, crayons, and small toys for different ages to keep the kids entertained. The snacks and beverages you have can also be popular among children, such as juice boxes and cookies, providing quality together time for the entire family.
A Basket filled with Relaxing Treats
A concoction of relaxing treats in a basket can be a delightful surprise for guests seeking quiet time and rejuvenation. Include scented candles, bath salts or bath bombs, essential oils, and a soft, cozy robe.
There is no doubt that this basket would create a "wow factor" for your guests. It can be designed to create a calming and serene environment, allowing your guests to relax and indulge in self-care activities and enjoy a wonderful stay!
The Outdoor Adventure Basket
Create an outdoor adventure basket for your Airbnb guests if your Airbnb property is located in a region where outdoor activities are popular. You can provide information on where to rent gear, such as hiking poles or a local guidebook with recommended trails and outdoor attractions; remember to include items like water bottles, energy bars, trail maps, bug repellent, and a small first-aid kit. This basket will also show your area knowledge and enhance your guests' outdoor adventures!
The Business Traveler Essentials Basket
Business travelers will greatly appreciate a basket filled with essentials if your Airbnb caters to them. For example, for early morning meetings, include a universal charging adapter, notepad, pens, a travel-sized toiletries kit, and a gift card to a local coffee shop. With this thoughtful gesture, your guests can stay organized and have a more enjoyable and productive business trip.
The Pet-Friendly Basket
By providing a pet-friendly basket, you'll earn extra brownie points as a host if your guests travel with their pets. Include pet treats, toys, waste bags, and a list of nearby pet-friendly parks and walking trails. You can also provide information on local veterinarians and pet supply stores. It makes guests feel valued if you consider their pet's needs.
The "Love-is-in-the-Air" Basket
The perfect setting for a romantic getaway for couples can be created by filling a basket with romantic touches. You can include scented candles, massage oils, rose petals, chocolate, champagne, or sparkling wine. You can also suggest romantic restaurants and scenic spots in the area to add to the romantic atmosphere of their stay, making it truly memorable for them.
What to take away from this,
A successful welcome basket requires personalization and attention to detail. You can create a game changer by considering your target audience's preferences and needs and tailoring the basket contents accordingly. Infuse your creativity and use your resources, and "Voila," you've got your hands on a game changer!
Final Thoughts,
If you want to create a warm and memorable stay for your Airbnb guests, welcome baskets can be a massive game-changer. Your Airbnb guests will leave rave reviews about a welcome basket that goes beyond their expectations. Whether you highlight local flavors, cater to specific interests, or create a relaxing atmosphere, these ideas will surely help you craft a memorable and personalized welcome for your guests. By paying attention to their needs and preferences, you'll impress your guests and increase the likelihood of garnering more positive reviews. In the end, you will be able to attract more bookings for your Airbnb this summer and benefit from repeat bookings in the future.
How can Hostaway Help?
Welcome baskets have the power to transform an ordinary stay into an extraordinary one, creating a memorable experience that guests will rave about. Make the process even more seamless and efficient by incorporating property management software such as Hostaway. Our software can streamline check-in processes, automate communication, and manage bookings, allowing you to focus on creating an exceptional stay for your guests and providing excellent guest service. In addition to providing a truly memorable guest experience, you can set yourself apart as an Airbnb host with the help of Hostaway property management software.
Take advantage of the opportunity to explore how Hostaway can transform your property management business and unlock growth potential. Get in touch today to schedule a demo call at your preferred time. Our product experts will provide actionable advice and guide you through the features and benefits of Hostaway. Then, don't hesitate to take the next step towards maximizing your business's success with Hostaway's innovative property management software. Contact us now and journey towards streamlined operations and increased profitability.